We're excited to guest post on Handy Man, Crafty Woman today.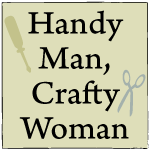 Laurie at HandyManCraftyWoman.com is a cute and energetic blogger who has so many talents and done so many amazing projects with her diligent hubby.  She cooks, crafts, organizes, and did I mention they've renovated several homes.
Honestly we were a little blown away that she would be willing to guest post on our little-ol-site last week.  (When you see what she's done you'll know what I mean.)  And when she asked us to return the favor we nearly started drooling on ourselves.
But pinch, pinch–yes it's real.
So check out our post on Hand Man, Crafty Woman and while you're there check out all the other inspiration they offer.